Hot and Mean presents: Zoe Needs An Opinion Of A Busty Lesbian.
Scene Title: I Need a Lesbian's Opinion
Storyline: Zoe walks into a clothing store and notices that both the male and female clerks can't keep their eyes off her. The male clerk tries his hardest to get her number but Zoe doesn't show him any interest, however she shows plenty of interest towards Shyla.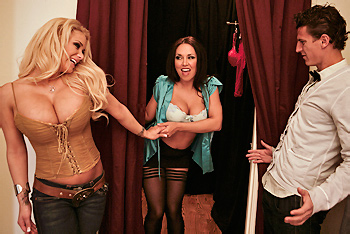 HD Video Trailer
What people are saying about: Zoe Britton and Shyla Stylez - I Need a Lesbian's Opinion hotandmean scene
Comment #1
Yeah I liked them having a mutual attraction to one another. Shyla with her body frame and physique are always looking phenomenal. Damn shame Shyla's thighs were all bruised up. Nice angle of Zoe touching herself while eating Shyla. See I like when a chick gets her nose into it like Shyla did. She just buried her nose in Zoe's ass and just ate to her heart's content. I don't mind toys being use but I like some licking to happen as well. Snoogans!
Comment #2
Oh how I love me a brunette with her ass in the air, and eating pussy @ the same time!!!
Comment #3
By the way, this Zoe chick is hot. Another great move with this new H&M site, now we'll get to see all these hot g/g girls on Brazzers we wouldn't have been able to see without it. Sweet! Bring more of Zoe back please, with pics next time! Keep Shyla going too, she's so hot with other chicks.
Comment #4
There is nothing wrong with lesbian sex scenes. The thing is they just need to get more spicier. Hardcore kissing, scissoring, etc. Then I'm sure a lot of you not busting a nut will spew cum.
Comment #5
You morons need to stop complaining. Nobody is forcing you to watch these scenes. If you don't like lesbian scenes, there are literally hundreds of other scenes to choose from. I don't like anal sex but you don't see me bitching about all the anal sites on Brazzers. Stop being so fucking selfish. Until Brazzers started Hot and Mean, it was the only porno site I knew of that didn't have lesbian scenes. As far as I'm concerned, it's about damn time.
Picture Gallery