Hot and Mean presents: Lisa has something to eat With Hottie Louisa During The Lunch Hour.
Scene Title: Employee of the Month Bonus
Storyline: Louisa, the employee of the month, is doing her presentation on the new perfumes that she worked on to make them power seller on the market. Lisa, her boss is so proud of her and so hypnotized by the aphrodisiac powers of the perfumes that she is wearing that she is cutting the meeting short and sending everyone else to lunch in order for her to have a bite of Louisa to eat during her lunch hour. Snack on some pussy for lunch, it's finger licking good.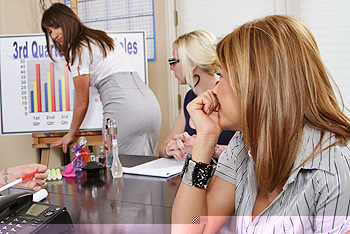 HD Video Trailer
What people are saying about: Louisa Lanewood and Lisa Daniels - Employee of the Month Bonus hotandmean scene
Comment #1
This started really nice with the instant attraction they had. I like how they didn't rush they foreplay. Each got a equal shot before they dropped their panties. Louisa has a good looking ass. I liked they tongue fucking they done to one another. Nicely done angle with Lousia rubbing herself and pleasing Lisa at once. Damn Lisa had toys just hidden about in the conference room. I wish the sixty-nine was shot with them getting equal time. Lousia on top of Lisa was too good to miss what could have been. It's odd cause I was expecting more from Lisa but got it from Lousia. Snoogans!
Comment #2
Love the set up, and the flirting...HOT! More like this and you will have the best lesbian site on the net. Bravo!
Comment #3
omg ....when i first seen this scene in a picture... i seen lisa the brunette and thought it was Sasha Grey. i mean my Heart was literally beating fast, but unfortunaly it wasnt her when i started watching the scene. pls for the 50th time please bring back Sasha Grey.
Comment #4
Lisa is pretty hot. Louisa not so much. The thing about lesbian movies is how do they know when they're finished? do they just stop when they get too tired to carry on?
Comment #5
When I saw ZZ started a Lesbian site, questions came to my mind. Only a few places were successful with straight lesbian action. This is my first viewing of a scene from this site, I will admit, it was a pretty good one, but the level must rise, if it stays a float, then failure is in the future of this website. The site must be more original, what I saw here, was done so many times before. The ladies were nice, striptease was present, a little foot fetish check, toys, but still something was missing. 7 out of 10!
Picture Gallery