Hot and Mean presents: Samantha Ryan and Diamond Foxxx in my best friend took advantage of me! episode
Scene Title: My best friend took advantage of me!
Storyline: Diamond comes crying to Samantha about how she got into a fight with her boyfriend and got kicked out of their place. Samantha takes Diamond under her wing for comfort, but Samantha wants to do more than just comfort Diamond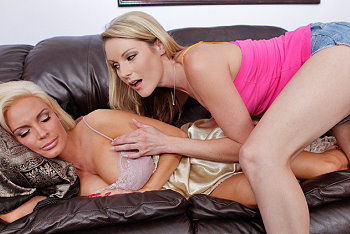 Hot and Mean Samantha Ryan and Diamond Foxxx HD Video Trailer
What people are saying about: Samantha Ryan and Diamond Foxxx - My best friend took advantage of me! hotandmean scene
Comment #1
ok cmon we all know bitches are all close and shit. there is no way that girl would be sleeping on the couch, especially if they are best friends yo. they def would be sleeping in the same bed. not on some lesbian type shit but just for general purpose. bitches are all open like that with eachother. they dont look at it as being gay. this scene is fucking hot anyway. but they could have taken it to the bed where she could have at least flipped her over on her back and railed her missionary style wit the strap on. cheesy ass music also. i felt like i was listening to some video game music. and its so funny how she was passed out but convieniently positioning herself to get licked
Comment #2
even though I walked into this one knowing it was G/G, I still didn't enjoy it. I'm not sure if it's becuase Diamond's character slept through it. This one didn't have any chemistry which made for a very bland, one-sided scene. This wasn't for me.
Comment #3
Pretty cool scene. I like the whole sleep creep idea, I just think diamond should have woke up at some point and returned the favor. You guys should do the same type of scene with a sleeping guy who gets the same treatment from a girl (preferably Lisa Ann!). That would be awesome.
Comment #4
I have to say this makes a change. Normally not into the GG but the dirty talk and sleeping friend scenario was hot. If this was a BG scene I'm sure there would be complaints. Either way this is better than an eight and this GG combo was worth watching.
Comment #5
Straight up rape scene and while its only just acceptable with 2 women,because this is such a rarity in real life. If there was ever a similar scene with a dude. id be off of here in a second.