Hot and Mean presents: Ahryan and Lexi playing with eachothers tight little pussies
Storyline: When Lexi is in the middle of a terrible nightmare, Ahryan being the good stepmother that she is, knows she has to wake Lexi up and comfort her. She comforts Lexi the only way she knows how, a large dildo in the holiest of holies.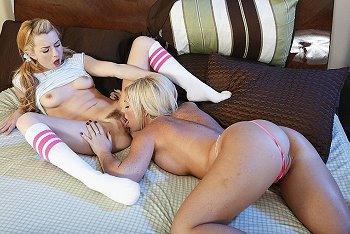 HD Video Trailer
What people are saying about: Lexi Belle and Ahryan Astyn - Wet Dreams hotandmean scene
Comment #1
great scene. i mean I prefer a nice landing strip, thats more like an emergency landing in a field but I can dig. bravo to both girls
Comment #2
Take some fucking notes Brazzers. Now this is what you call lesbian sex. Genuine sex mates who are so into the sex they forget they are being filmed.
Comment #3
THIS IS BY FAR THE BEST ONE YET...PLEASE MORE OF THESE TWO GIRLS IN A SEEN TOGETHER...DO A PART TWO TO THIS
Comment #4
One of the best scenes i've seen in ages, casting was inspired, two thumbs up!
Comment #5
It's been so long since I've seen Ahryan. I thought Jayden sent her to the abyss. This was slightly on the creepy side but still kind of hot. I guess she figured why not go for it since Lexi wasn't having a nightmare and more like a wet dream. Lexi is a real sound sleeper. The scene really picked up when Lexi woke up and took over. She seriously was all up in the cookie jar. They actually done the first bumping uglies. I've been wondering when it was gonna get done. The toys being thrown in was extra for me. I wasn't expecting it and it made the scene excell even further. Snoogans!
Picture Gallery