Hot and Mean presents: Two Big Titted sluts playing with eachother
Scene Title: Masso-Lick-My-Pussy
Storyline: Jayden is upset because Keiran has let out their little secret that they are having sex outside of work. Luckily for Jayden, the works massotherapist has just arrived at her office and is willing to relieve a lot of her stress.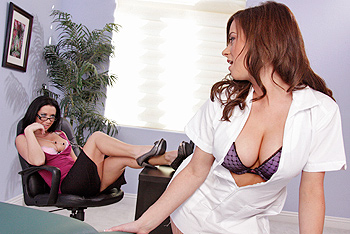 HD Video Trailer
What people are saying about: Taylor Vixxxen and Jayden Jaymes - Masso-Lick-My-Pussy hotandmean scene
Comment #1
if i was a woman, i wish i had jayden's body...and id definetely be a lesbian and do all sort of crazy stuff....but i wish i was a lesbian...but a hot lesbian...otherwise not..lol
Comment #2
By far the best Hot and Mean scene. Take notes Brazzers. More kissing and real sexing required to get this lesbian site off the ground.
Comment #3
I love lesbian. This scene is terrific, Taylor Vixen is gorgeous and, above all, she is natural! I love the way she looks at the camera occasionally. JJ is very sexy too. I hope to see more of Taylor, more lesbian, more natural boobs. I'd like to see a lesbian scene with Sara Stone and Avy Scott...
Comment #4
Nothing better than two woman going at it... NOTHING! I LOVE it!! MORE MORE!! :) :) What do I imagine??? Umm... two hot women going at it, licking and sucking the shit out of each others pussies... What the fuck is wrong about that? Seems like something most guys would want to see! What world are some of u guys from??? Why is ALWAYS about "fantasizing" that you are the guy?? That's not the main, EXACT reason why ALL guys/gals watch porn... I watch it simply because its just hot... and well, just seeing others being aroused and having an orgasm turns me on...
Comment #5
great site, but the use of toys is such a cop out. fingers, and tongues! the more the better. this scene at least has a minority of time spent on toys
Picture Gallery