Hot and Mean presents: Sandy and Monique Alexander in dominating the boss episode
Scene Title: Dominating The Boss
Storyline: Sandy is the CEO of a big company and has a bad attitude, nobody dares to confront her nor question her orders. On this particular occasion however, an employee gets the courage to talk back to her. This leads to a heated argument and then a cat fight ensues, clothes get torn off and then the two get overcome with passion. I guess Sandy does have a submissive side to her deep, down inside!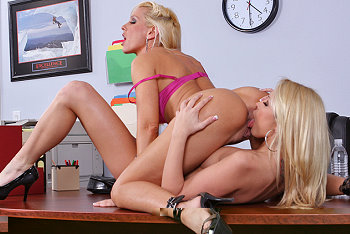 Hot and Mean Sandy and Monique Alexander HD Video Trailer
What people are saying about: Sandy and Monique Alexander - Dominating The Boss hotandmean scene
Comment #1
An exceptional pairing and they did not disappoint! Seeing Sandy and Monique in a passionate embrace is like paradise on earth with those two celestial bodies! Good to see Sandy with her fine ass on HAM again. And really impressive to see two such evenly matched hotties. The fluently trilingual Sandy, is delectable as always and is really hot here. Love her accent which could pass for a Latina. Very sexy. Too bad she did not speak a bit more. Almost made up for it the way she took a hit of that bottled water though! And Monique as well is very passionate and looking every bit as hot. She gets sexier it seems, each time I see her in something new. Her sweet moans in the heat of passion are very hot, as are her oral skills on Sandy! And this is a good dose of eye candy too with the skirts and heels. The catfight was barely noticeable once they got busy. It was all lips, tongues, asses and very talented hands after that!! No doubt! Hey ZZ, if you really want HAM to rock why not trying to book more exotic looking Euro babes like Sandy. How About Zafira, or Peaches, Eve Angel, Simony, Claudia Ferrari and Sylvia Laurent for starters. Even Anette Dawn and then bring back Cory Everson too! Now that would be hot and mean! Nudge, nudge, wink, wink!!
Comment #2
Best lesbian scene yet. The pussy eating ROCKED in this one, and they sucked real good on pussy lips - just what I want to see. Great finger rubbing/fucking. Chemistry was great.. they were really into each other... more scenes like this please. :) Thank you for Hotandmean Brazzers!! And well said "regular"
Comment #3
Catfight! I was so hoping to see Sandy again in action. I do believe I've fallen head over heels in love with Monique Alexander. I've seen all the scenes to HAM but only a few have really moved me. I want to be fucked by Monique cause she knows how to fuck a woman. She is totally into pleasing her partner and that is a great thing. I loved how she finger fucked Sandy. The cameraman dropped the ball some on that sixty-nine. The face off was hot how they were both touching each other's clit. Monique is like the Dairy Queen of ZZ, yeah she'll treat you right. Sandy has got the best lower half body. Great fucking thighs on her. Snoogans!
Comment #4
LISTEN, BRAZZERS IS TRYING TO HAVE A VARIETY OF DIFFERENT SCENES. SOMETIMES YOU WANT TO WATCH LESBIANS, YOU CANT EXPECT A DICK IN EVRY SCENE. LOTS OF PEOPLE LIKE LESBIAN, IF YOU DONT THEN YOU CANT EXPECT EVERYONE TO BE LIKE YOU SO DONT WATCH IT!
Comment #5
My dear Brazzers, are you trying to play vivid here? Copying their great "strategy" to sit on scenes forever before releasing them? Monique's rib tattoo isn't even coloured yet, so this scene is like what, 10-12 month old? Anyway, even though I think Monique's "wasted" in a lesbo scene and hope to see her in some more hot B/G action, I'm glad for every Monique update here - Since she's simply the hottest girl in porn ever!