Hot and Mean presents: Two Hot Busty Strippers Take On One Hottie
Scene Title: The Only Poll We Want Is A Stripping Poll
Storyline: Sandee is forced to go to a strip club with her co-worker, so they could try to pursued a potential business partner on a business deal. She begins to feel even more out of place when the strippers begin eye fucking her and then force her to receive a free lap dance and a whole lot more.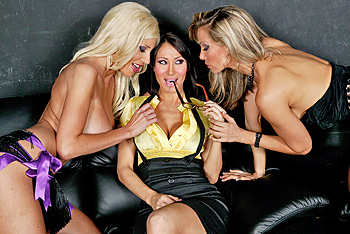 HD Video Trailer
What people are saying about: Sandy, Sandee Westgate and Puma Swede - The Only Poll We Want Is A Stripping Poll hotandmean scene
Comment #1
Holy shit Sandee Westgate is so damn sexy. Brazzers, MORE SANDEE!!!
Comment #2
I've never been into lesbian scenes either. That woman right in the beginning with her amazing ass....just dancing was a huge turn-on! Unbelievable! I think the thing that helps is there aren't any guys to distract the shot. Sexy scene so far, I've only gotten a few minutes in. Great work Brazzers!
Comment #3
Holy Crap. I've never been much for all girl scenes , But this Sandee Westgate and the other Blonde (not Puma)was absolutly awesome in this scene. More Sandee PLEASE. Sandee I love Your short Jet Black hair.
Comment #4
Well I like being in the strip club every once in awhile. I have to admit with her being on the forum and I'd never seen her in action until now. My eyes were focused more on Sandee and what she was gonna bring to the table. Being teamed with Puma was a good thing since I just saw her with Avy. Wow what a body on Sandy though. I wasn't thrilled with the editing that cut the progression of Sandee being unwilling to have sex with chicks. Damn they did a number on Puma. They gave her the uncontrollable crazy legs. I enjoyed the scene but can't wait for Sandee to play the aggressor. Snoogans!
Comment #5
This scene started real nice, and was going strong until the 14 plus min. mark, never edit lesbian scenes, especially the undressing of them. A lesbian scene, must be perverted as possible, sexy clothes, striptease, dirty talk in some scenarios, and sometimes kinky play, almost fetish play at times. This update could have easily been a 10, but bad editing, and rushed sex, hurt this one's score! Try again ZZ!
Picture Gallery