Hot and Mean presents: Old College Babes Have A Hot and WeT Reunion.
Scene Title: When Friends Cum In Handy
Storyline: Rachel R and Rachel S have been best friends since College. They get reunited after years of not seeing each other and at the moment where Rachel R's marriage is going down. Rachel S helps her deal with this difficult situation by fucking her silly when her husband is not around.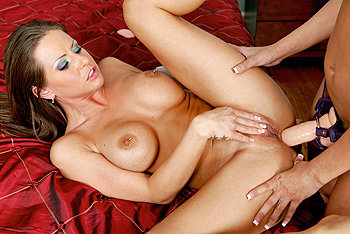 HD Video Trailer
What people are saying about: Rachel Starr and Rachel RoXXX - When Friends Cum In Handy hotandmean scene
Comment #1
fuck the pics. great scene! I have to admit, I didn't expect the anal. RoXXX takes it in the ass like a champ!
Comment #2
Damn this dude has all been married to most popular Rachels on ZZ. I liked seeing that it wasn't just about them missing the sorority days but RoXXX was in a shitty marriage. It was hot watching Starr masturbate and like the fact she didn't use a toy. RoXXX tried to stay true but I like Starr persuasive ways. Yep I was diggin the booty shake on the tongue and seeing RoXXX finger herself. I'm impressed that your guys got the Feeldoe Slim and put it to great use. I believe I was faked out by the insert photo cause I never saw the strap-on used on RoXXX. I hope you guys get that dude to play extra in more scenes. He really helps make scenes believable. Snoogans!
Comment #3
This scene is awesome! Rachel and Rachel are the two hottest chicks in the entire porn industry. The only thing better would be to throw Criss Strokes in the scene with them.
Comment #4
Yes to the more strap-ons! Although the anal play made up for the missing strap-on in this one, especially cause its Rachel Roxxx..... just when you thought she couldn't get any hotter, she starts working that tight little ass for us. Amazing. Thank you Rachels! Thank you Brazzers! and if there's pics please get them up there :)
Comment #5
when ms. starr is riding that double dildo on top of ms. roxxx .... well, my cock exploded. Thank alot you too. Now I have to duct-tape my dick back together...it was worth it. AWESOME SCENE!!!
Picture Gallery