Hot and Mean presents: Sienna and Sara eating carpet strips and loving it
Scene Title: The Carpet Cleaner
Storyline: Sara has been scheduled to clean out Sienna's new office, she is known as the Carpet Cleaner of all kind. But today not only she has to clean the room carpet but also she will have to go deep into Sienna's secret carpet to clean up the dirty mixture out of her pussy before she cums all over the dildo of hers.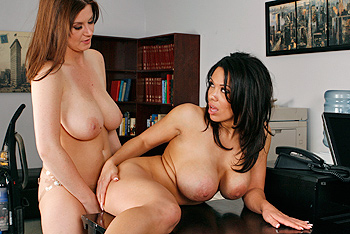 HD Video Trailer
What people are saying about: Sienna West and Sara Stone - The Carpet Cleaner hotandmean scene
Comment #1
"Not very hot or mean, I am disappointed." I'd like to pose a question to the person who said this: have you completely lost your mind? Granted, this scene isn't "mean" in any way, shape or form, but it most certainly is hot -- in fact, it's SMOKING HOT. This is one of the best scenes I've seen here this year, so far. Putting beautiful, hotter-than-hell chicks like Sienna West and Sara Stone in a lesbian scene together was a genius idea. To Brazzers, I say "bravo." Furthermore, I'm really digging the "Hot & Mean" site. Most of the scenes are solid and very, very sexy. I hope this site will remain a permanent feature of Brazzers. Keep the lesbian scenes coming!
Comment #2
I Love the Lesbo Site on Brazzers. The was the Idea of the Year!!!!!!
Comment #3
Very good lesbian scene... too much sexy... It's possibile a scene with Sienna and Dylan Rider or Holly Halston?
Comment #4
Wow, normally lesbian scenes don't do much at all for me, but this scene is fucking hot. Both girls are super sexy and did a great job together.
Comment #5
Honestly, the best thing about this scene was that they just let the camera roll. Sienna had the giggles at the beginning. Some of the camera work was so fucking brutal though. Sara bent over on all fours cleaning the carpet was too hot. I mean her shorts were slowly sliding in the crack of her ass. The kissing was really good addition but really should of been more of it. I liked the creativity from Sienna with the highlighter marker for a toy. Pushing it in and out with her full lips. The sixty-nine really wasn't that good but they were into it. The strap-on is where Sienna just had a cum fest because of those magical fingers of Sara. The cowgirl was hot watching Sienna power squat. Her cumming so hard it push the strap-on out during doggy. Then Sara almost inserting it back in Sienna's ass was too funny. Very impressive skills by Sara to finish it off in mish though. Amazing how something that looked bad turned out so good. Snoogans!
Picture Gallery