Hot and Mean presents: Busty lesbian teaches a hottie some pussy lessons.
Scene Title: Lessons in lesbian pussy loving
Storyline: Katie's called in to Ms. Ann's office over rumors that Katie's been spreading around school. Turns out that Katie's jealous that Ms. Ann's been flirting with other girls but not her. Katie's never been with a girl before, and wants Ms. Ann to prove that Katie's as hot as the other girls in class. Ms. Ann shows her once and for all that Katie makes for a very hot lesbian!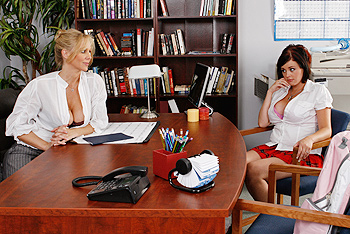 HD Video Trailer
What people are saying about: Katie Kox and Julia Ann - Lessons in lesbian pussy loving hotandmean scene
Comment #1
Katie just can't seem to stay out of trouble. She's smoking in the restroom and now busted by another member of the staff. Who better to do the disciplining but Julia Ann the master of being sensual. Damn Julia's body was sharp as a thumbtack. This started off really well and I was enjoying it. It slowed down when they went into the sixty-nine. I would have thought the toys would have picked up the pace. I liked the sweat glistening off Katie's body. I would have liked to of seen them go more at it with each other. Snoogans!
Comment #2
Thanx for the pix--better late than never. LOVE Katie Kox, she's the SOTA schoolgirl with short skirts and biiig tits. Mas, por favor.
Comment #3
oh my god! all you gotta do is get them to finish up on a big black dick and this would be the greatest flick ever!
Comment #4
Lesbian or not these scenes need more teasing! Asses and tits poking out unknowingly!!
Comment #5
I would always prefer to see Julia Ann destroy a dick, but any scene with this great babe is worth watching. I love it when she's the dominant female bitch type.
Picture Gallery