Hot and Mean presents: Kitty and Savannah enjoying eachothers tight wet pussies
Scene Title: Do We Have To Share the Our Guy
Storyline: Kitty and Savannah are best friend, always talking about random guys they fuck. But today, they find out that both have been fucking with the same guy. And they decide having some girl on girl action instead of pushing each other.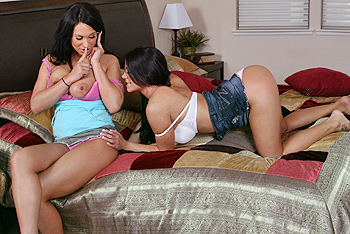 HD Video Trailer
What people are saying about: Savannah Stern and Kitty Bella - Do We Have To Share the Our Guy hotandmean scene
Comment #1
if a girl doesn't have a dick in at least one of her holes.... BORING!!! get rid of the lesbian shit. we get enough lesbian footage in the FFM scenes.
Comment #2
Jesus guys! If you don't like lez sex, don't watch Hot and Mean scenes! Savannah is a hottie but there is way too much use of dildos in these scenes - more oral and less toys, please
Comment #3
who the fucks cares for watching savannah stern getting fucking by plastic and licked....its bullshit, get a real dick and fuck the hell out of this girl...for god sakes shes hot as hell, this shit is WACK
Comment #4
If Savannah Stern wasn't so cute, this scene would've blown. Did you even try. This scene had the lousiest tease I've seen since the 80s lesbian scenes where one girl would always say "I've never been with another woman before." And then that woman becomes the aggressor. This was as bad as that. It goes from a really cheesy & lame argument, to an even cheesier pillow fight, to the sex. Did these girls just meet eachother the day of the shoot? WTF? The sex isn't too terribly bad but everything else sucked ass. I like the teasers as a segue to the sex. It lets the girls showcase their sexiness & how horny they genuinely are. This scene felt rushed as if you had another shoot in 45 minutes so you'd better hurry up this one. I give it a 6 & that was only because Savannah seemed genuinely into it. The other girl seemed a little too clumsy as if she'd never been on camera before &/or was a little tipsy. You shoot scenes like this & yet you continue to passover women like India Summer & Michelle Lay who can always deliver a good scene regardless of how little you give them because you obviously gave these girls absolutely nothing to work with. It's like you told them the basic story & yelled "action." YOU'RE SO MUCH BETTER THAN THIS. Are you even trying anymore? Is Brazzers getting lazy?
Comment #5
See this would have been more enjoyable story had it not been for the phone call interruption. I didn't mind the dad knocking on the door though. This story would have been ultra hot had they been talking about how their boyfriends eat pussy and decided to show and tell. Though I didn't like the Kitty on the phone, Savannah was giving her a severe tongue lashing. Then she continued like I knew she would when the call ended. Kitty did alright but she got more involved when the vibrator was used on Savannah in doggy. However Kitty got her nose in that ass during the sixty-nine though. Considering she was tingling from the toy too, she sure stayed with it. Snoogans!
Picture Gallery