Hot and Mean presents: Nikki Argues With Her Sexy Boss About Her Watching Lesbian Porn At Work.
Scene Title: Take a break and lick my clit
Storyline: Nikki catches her coworker looking at a lesbian porno magazine. She finds it gross and they begin to argue when their boss Lexi overhears them. Lexi finds the magazine sexy and will stop at nothing to have Nikki's tongue all over her horny wet pussy. At first Nikki resists but everyone knows the boss is always! Nikki finally gives in to Lexi's dominating seduction and a full on lesbian fuckfest ensues!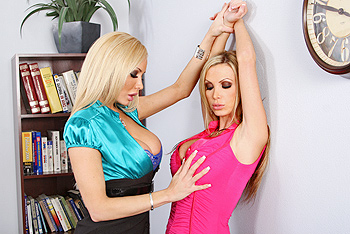 HD Video Trailer
What people are saying about: Nikki Benz and Lexi Tyler - Take a break and lick my clit hotandmean scene
Comment #1
I enjoyed this scene as I do with most scenes that nikki is in. This woman is the greatest. Her beauty is mind boggling and dick throbbing to say the least. love the outfit, the hair , the look Nikki. lets see more of you and with more rough stuff if possible. the classy stuff is also great
Comment #2
Damn I loved everything Nikki wore. I mean her ensemble was really fucking hot. If Lexi is gonna pursue Nikki like she did, then why not have her start the fireworks. I mean Nikki was the one that wasn't even down with muff diving to begin with. So she needed Lexi to give her the guidance. So I'm glad the story shifted to where Nikki was wanting to leave. Which in return made Lexi more aggressive. I liked Nikki straddling Lexi, too bad the camera didn't get closer. Now I liked the sixty-nine cause it showed them both going at it. The best part was Lexi bent over with her back arched and Nikki lapping up the juices. Snoogans!
Comment #3
This was quite good - I'm not usually a fan of g/g scenes - they usually appear to be going through the motions, but this one was better than most. I loved the hot chicks in the sey work outfits, complete with stockings and short skirts.
Comment #4
Incredible scene! So glad you got Lexxi to Brazzers! She is soooo hot! Nicki Benz is my favorite and love anything she does. The two of them together with such sexy outfits and hot sex made a great scene. Now bring Lexxi back with a guy or two! If she will only do lesbian scenes then it is OK! However, loved Nicki doing anal and want to see that again. Perhaps in a party scene!
Comment #5
I love you guys! I know you love seeing me take a BIG cock up my pussy, or just most recently my ass, but you need to give this lesbian site a chance. There are a lot of lesbian fans out there. I had fun making this scene!! Pussy power LOL ~Kisses, Nikki
Picture Gallery