Hot and Mean presents: Hot Pornstar Tries To Sell Her Adult Toys
Scene Title: I'll Do Anything To Have This Sale
Storyline: Owner of Eve's Apple Juice Adult Toys Company, Madelyn Marie is going business to business to sell her top of the line products. Toys for woman of all ages and shapes. After a really nice pitch, her client, Sammie is almost convinced about the quality of the products and wants a little tryout to make sure that she is buying the best of the best. Hearing this was the best news for Madelyn who was more than happy to oblige satifying her new client.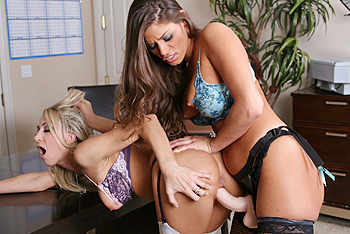 HD Video Trailer
What people are saying about: Sammie Rhodes and Madelyn Marie - I'll Do Anything To Have This Sale hotandmean scene
Comment #1
That was AMAZING! And I never watch lesbians, normally bores me to tears Love the set-up, the flirting before the sex -(NEED MORE OF THIS) and the heat. Finally a lesbian site that does not blow. Great job guys....more like this! Outstanding!
Comment #2
Good to see Sammie take a break from her normal gig. Plus last time she was here, she made the screen melt with Bree Olsen. She brought the intensity just like she left off from her last scene on ZZ. I thought Madelyn rushed using the strap-on. Should of been quite a bit more cunnilingus by her. Sammie went with the spider monkey like move when she wore the strap-on. I had no idea she liked it in that much either. No faking these orgasms when they cum off those vibrators. They had a good sixty-nine session with the both getting in there doing some munching. Damn Sammie has had some practice taking all those toys at once. Snoogans!
Comment #3
Hot and mean is an awesome addition to the line-up.
Comment #4
Finally some new Sammie Rhodes. It's been a long 2 years. Indeed, pay her the bucks to stay around.
Comment #5
Sammie's lesbo scene with Bree Olson two years ago was hotter but this is pretty damn hot too! Madelyn Marie is so fucking sexy & she gives it to Sammie good & she gives it to Madelyn right back just as good!
Picture Gallery