Hot and Mean presents: Antonia Takes A Trip To The Doctor's Office For A Boob Job.
Scene Title: Real Boobed Babes
Storyline: Antonia doesn't think she has enough cleavage and considers having a boob job done. She takes a trip to the doctor's office. The doctor, Jessica, takes one look at those sweet titties and just has to suck on them. Things heat up real quick and the two sexy sweethearts get it on full tilt!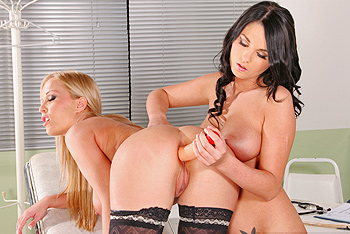 HD Video Trailer
What people are saying about: Jessica Moore and Antonia - Real Boobed Babes hotandmean scene
Comment #1
I felt Antonia was wanting Jessica just abit more. After all she did get the doctor to remove her top. Now granted Jessica got to lick first. It was just the way Antonia worked on her. I liked her two finger gun approach. I didn't like how a strap-on appear out of the blue. Although it was pretty hot watching Jessica's titties sway. Nice from below and showing the tunnel of love. It was alittle creepy hearing the director's voice. See I wasn done with magical Jessica now has a dildo in Antonia's ass. Antonia looked incredible from head to toe naked. They must of lost track of time the way this ended. Snoogans!
Comment #2
this is exactly why Euro girls are hotter than our own American girls. they don't cover themselves with tattoos and piercings. or at least keep it to a minimum where its "cute". then they don't have hideous boob jobs. Have a natural look. amazingly gorgeous
Comment #3
Antonia, wow. Great move with the new site Brazzers, now we get all these gorgeous girls we otherwise wouldn't have. More of her please, more of all of it!
Comment #4
I like the new site. Great scene idea with two hot ladies./
Comment #5
Antonia's fucking hot. Get her a good scene being dicked ASAP!
Picture Gallery