Hot and Mean presents:
Scene Title: Robber Jobber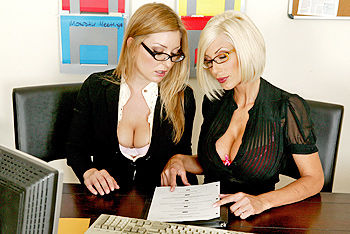 HD Video Trailer
What people are saying about: - Robber Jobber hotandmean scene
Comment #1
Now I am going to tell all of you the mis-management of talent we have here. Puma has great feet. In this scene, Avy is licking them. Now, in the boy/girl scenes, Puma wears shoes way too often. Ironically, she is married to that Keirnon dude and they have yet to make any toe sucking/footjob movies together. He is doing them with other girls. Lets get this fixed.
Comment #2
Comment #3
Yes! I've been thinking to myself for months, "What Brazzers really needs is to have the occasional girl/girl scene." I mean, it's been great having some boy/girl/girl scenes which start off with les loving and then move into the threeway, and I hope that those scenes continue to get made, but there haven't been any strictly lesbian scenes. Now that oversight has been redressed. Nothing will ever be as good as boy/girl, or any variation thereof, but it's really good to have a break now and then for the girl/girl. Keep 'em coming, Brazzers! Now, the next oversight which needs to be redressed is to start putting out the occasional scene with some believable power play.
Comment #4
Meh, strap on is boring to me... Love GREAT pussy munching and sucking in lesbian scenes, and hard fucking with dildos/vibrators in a 69.... MMM
Comment #5
Two great chicks! But lesbian porn needs some good strap-on action in order for it to be good "fucking" and not just "assisted masterbation." It's still hot... but it definately could be better.
Picture Gallery